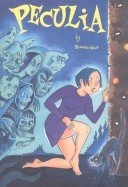 ISBN: 1560974958 ; Delicious Links
JP mentioned this comic over on his blog way back in Nov of last year and it did sound like fun. So when I spotted it for only a fiver, well, come on, how could I resist. Despite my quasi-promise to buy "no more stuff". And I'm really glad I did, because it is just plain fun. With the gothic fantasy and the light-hearted violence.
The book itself is a collection of stories, with very little linking them, apart from the characters. Peculia, who lives with her butler(?), her nemisis and ex(I think) Obscurus, and his henchwoman Justine. Obscurus often sends Justine after Peculia but her plans for capturing Peculia rarely work out as intended.
And have I mentioned that the art work is just great? Cause it is. I'll have to be on the lookout for more stuff more Sala. Although not for a while. You know, cause of the whole not-buying-stuff deal.