ISBN: 9780778302650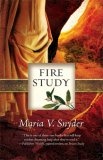 "That's pathetic, Yelena," Dax compained. "An all-powerful Soulfinder who isn't all-powerful. Where's the fun in that?"
This is the third book to star Yelana Zaltana as its heroine. And, as I am still reading them, I'm still enjoying learning her story. Way back in book one she was a lowly food-taster, condemned to death for murder, but over the course of the other two books she has come a long way, so if you haven't read them this review will spoil some of the developments for you. But then again, by knowing that there is a 3rd book you already know she didn't die at the end of the first book. Or do you… maybe her ghost is telling the story.
If you have read the previous two books, well, then you'll already know that she isn't a ghost telling a story. Though that would be kinda cool. If it was done well.
Back to the book.
I did like Yelana, a lot, in the first book. Not quite so much in the second, and the same in this one. Maybe the book just isn't as tightly written as it could be, I'm not exactly sure what isn't as good as it was. I guess I just found some things a little too contrived. The distancing herself from others for example seemed a bit forced in there. It could have worked, it is something that would fit with the character, but it just didn't ring through for me while I was reading it.
That being said I did still enjoy the book. And if you've read and enjoyed the first one there is no reason you wouldn't enjoy this either. It is a quick entertaining read. It isn't grand high literature, but who wants that when you are settling in to enjoy a nice adventure of a story?