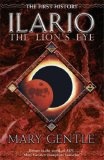 ISBN: 9780575080416 ; Delicious links
We are so often a disappointment to the parents who abandon us.
This is a return to the world of Mary Gentle's alternate world of mercenary captain Ash[1] although this book is set in a different part of the world and 50 years earlier, there is no need to have read one to read the other. I'm a big fan of Ash, and this is very similar in feel, although it doesn't have the alternate narrators or indeed the flashing between the past and the present. But the idea of a central character who doesn't fit in their society, who is trying to be themselves even if they don't really know who they are.
Read more about Ilario: the lion's eye …
Linknotes:
which I may now reread… ↩