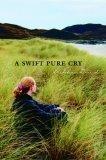 Author: Siobhan Down
ISBN: 9780099488163 DDC: 823.92
LibraryThing | Wikipedia | Siobhan Dowd Trust
The place brought to mind a sinking ship. Wood creaked on the floor, across the pews, up in the gallery. Around the walls, a fierce March wind chased itself.
Michelle Talent is the eldest of three children. Her father spends his time out collecting for charities, and often drinking at least part of the proceeds, her mother is dead a year when the story opens. Shell spends most of her time and effort looking after her two younger siblings. Since her mother's dead she has stopped believing in god, but when a new priest comes to her small village, his way of preaching makes her begin to believe in Jesus again. At the same time she is shamed by her father's behaviour. Even school offers little by way of escape. She has a falling out with her best friend over a boy, and soon Declan is her only friend.
And then she discovers she is pregnant.
This book is set in a small village in Ireland in 1980s, and is based on two real life cases that happened then. The first is the story of Anne Lovett, a fifteen year old school girl who died from bloodloss while trying to give birth in a grotto. The second is the unsolved murder case of the Kerry Babies, where the body of a baby stabbed to death was found on a beach. Both of these cases caused huge controversy, as you can well imagine, and that of the Kerry Babies was all the more controversial because of the way it was handled by the Gardaí.
But back to the book, which is well written and engaging enough. And it has won a lot of praise from critics. I was left a bit meh-ed by it however, and it took me almost a month to get around to finishing. So not great, imo. I did like the way the character of Shell was portrayed, how her naivety and innocence are really what get her into trouble. But also the fact that there were no real "bad" characters. This isn't the story of a poor girl who was abused and discarded by anyone, instead it is how she slipped through the cracks and through her ignorance, and the lack of interest from anyone else, was left alone to deal with her pregnancy.
Other reviews: Lisa the Nerd ; be AUDacious ; Big A little a ; Through a glass darkly