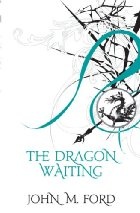 ISBN: 9780575073784
The road the Romans made traversed North Wales a little way inland, between the weather off the Irish Sea and the mountains of Gwynedd and Powys; past the copper and the lead that the travel-hungry Empire craved.
Where to start with this book's plot summary? Cause there is a whole load going on. From Florence's Lorenzo de Medici to England's Richard III and a whole host in between. I suppose you could say it is a look at a Europe that might have been. An alternate Europe with wizards; one where the Byzantine Empire a threat and vampires rule Milan.
Actually that all sounds a bit trashy, but this isn't a trashy novel at all, not in the least. It has plenty of action and the odd fantasy cliche, but it is very well-written and makes the reader work. I think that might be why it took me so long to get into it. In the beginning it just didn't grab me and make me keep on reading. But it did more than enough to make me come back to it; so I'm going to complain there.
Course the reason i picked it up in the first place it because of the new cover. The re-issued Ultimate Fantasy cover. Its got its dragon, but it also that that clean minimalist feel to it. I likes.
Back to the book.
I'm still not sure what to say. I'd recommend it, without a doubt, to any fantasy or historical fan. But there is just so much going on, it is a densely written book, that I think it really does need a reread. There are whole sections the book skips, letting the reader know what happened but never going into huge details. The characters don't reveal all to us. We are left to speculate and wonder in many instances. That's not a negative, by the way, it isn't done in a lazy way, as if the author couldn't be bothered, it is just that it serves the story better this way.
It probably works a lot better if you know a bit of history, having read Penman's The Sunne In Splendour helped me a lot with the Richard III storyline. And it helps that, although influenced by Shakespeare, this book is more in Richard's favour than interested in painting him the villain of the piece. What can I say, I'm loyal to my favourite literary characters, I don't really care what the history *really* says.