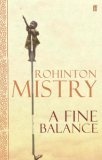 ISBN: 057123058x
See Also: Oprah's Discussion ; BlogCritics ; Simon and Janet's blog
Dina Dalal seldom indulged in looking back at her life with regret or bitterness, or questioning why things had turned out the way the way they had, cheating her of the bright future everyone had predicted for her when she was in school, when her name was still Dina Shroff.
I'm not really sure where to begin with this review. This is a big book, both in the amount of pages and in the amount of ground it covers. Set in an un-named city in India during the State of Emergency after India's founding it deals with four main characters whose lives intersect in the house of Dina Dalal who hires two tailors and rents out a room to a young student in an attempt to keep her independence.
Each character gets a chance to backtrack and tell their story; Dina's is one of love and then grief as her husband is killed in a road accident, and then of her desire to remain independent of her over-bearing older brother. Ishvar and Om are two Hindi tailors who have travelled to the city to make their fortune and escape the caste system of their home village. Maneck is the student lodger whose family lost much of their fortune during the Partition.
If you're looking for a happy, chirpy book then you really shouldn't pick this one up. It is full of the troubles that poverty brings. And then add in a corrupt government, a police force that works not for law, but for the highest price. At almost every turn our characters are put through the wringer. If something can go wrong it will.
The book is wonderfully written. It reads so easily and yet deals with such depressing events. I guess Mistry must be talented to pull that off. But to be honest the unremitting misery is a little much to take. You could say that there is some light at the end of the novel, but that is so faint it is hard to appreciate.