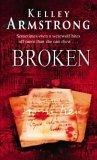 ISBN: 1841493422 – #6 in the Otherworld series
Clayton doesn't do "unobtrusive" well. Not even when he tries and that afternoon, he was trying his damnedest.
As the sixth book book in a series it helps if you've read the previous novels by Armstrong, but it isn't essential. However, I've read them all, and enjoyed them. They aren't "serious fiction" but they are well-written with humour and good characterisation. Perfect easy reading without being trash.
This is the third of the Otherworld books to focus on Elena and the werewolves, but some characters from other books do show up, or get mentioned. This time Elena has been asked to repay an old favour, by stealing a letter. Jack the Ripper's From Hell letter, to be specific. And it seems a straightforward job, so, in exchange for some information on a mutt on a killing spree Elena and the other pack members decide it is worth the risk. Or at least Jeremy, pack alpha decides, and the others are happy to obey.
There is however a complication. Elena's pregnant, and Clay is somewhat over protective. And then it seems likely that they've triggered a spell releasing The Ripper onto Toronto. Not only that, but he seems to be fixated on Elena as it was a drop of her blood that let him out.
Like all the other books in this series it isn't too be taken all that seriously, but it is the characters that are important. And as they've featured in previous books we don't have to spend a lot of time getting to know them, although they are changing a little as the series progresses. Which is understandable and good. They are still entertaining and believable, if you can call vampires and werewolves believable. If I'm totally honest this isn't as good as the first two, and is a little predictable in places. Especially regarding some of the villains, but I still really enjoyed it. And will be reading more by this author.
KellyArmstrong.com -official site | Book Fetish